Restaurantes sin gluten para celiacos en Alcossebre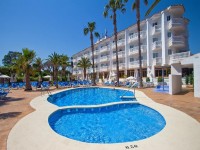 964.157.260 - 902.105.910

Hotel Servigroup Romana
( Restaurante )


0 Comentarios
Playa Romana, s/n - 12579 - Alcossebre (Castellón)
They adapt dishes as far as possible to the coeliac customer´s needs. It is necessary let them know when booking.
964.414.400 - 964.414.392


2 Comentarios
Avda. Las Fuentes, 26 - 12579 - Alcossebre (Castellón)
They offer to their customers a selection of gluten-free elaborated dishes to satisfy their food needs.


1 Comentarios
Paseo Marítimo Las Fuentes, 2 - 12579 - Alcossebre (Castellón)
Adaptan pescados, carnes, arroces, ensaladas, todo tipo de tapeo, postres caseros, etc... Tienen pan sin gluten y cerveza sin gluten.
964.412.426

Restaurante La Cúpula
( Restaurante )


0 Comentarios
Jai Alai, 2 Urb - (Edif. EURHOSTAL) - 12579 - Alcossebre (Castellón)
El cliente celíaco puede disfrutar de un menú adaptado, solicitándolo al jefe de sala; además de un servicio de pensión alimenticia totalmente apto para celíacos que comprende desayunos (con bollería y pan aptos para celíacos), comida y cena.

This distinctive identifies restaurants which have an agreement of colaboration with the provincial or national associations of celiacs and they have received training provided by the Association, to which all staff should attend: purchasing manager, chef, chefs, assistants , room managers and waiters
Note: The information we supply is indicative, we try to be as much as possible updated contrasting the data with ultimate responsibility. However, we recommend that before you go to ensure contacting the property directly,because maybe he could have made some changes in its service.