Casas Rurales sin gluten para celiacos en Cáceres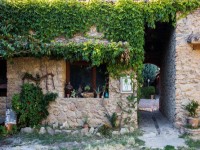 927.194.143 - 626.122.121


0 Comentarios
Carretera EX-392, km 15 - 10400 - Jaraíz de la Vera (Cáceres)
They are not specialists in preparing special gluten-free dishes, but they know their needs and they can prepare adapted dishes.
655.807.808 - 927.671.014


0 Comentarios
Barrero, s/n - 10867 - Robledillo de Gata (Cáceres)
Rural house and apartments where they serve suitable breakfast and meals for celiacs. Only for the people who are housed, without increasing the price.


1 Comentarios
Carretera N-630, Salida 427 - 10750 - Baños de Montemayor (Cáceres)
Si el menú que tienen no esta adaptado te preparan uno. Tienen postres y pan. También sin Lactosa
927.199.002 - 686.709.329


0 Comentarios
Villareal 13 - 10695 - Villareal de San Carlos (Cáceres)
They prepare suitable dishes for coeliac

This distinctive identifies restaurants which have an agreement of colaboration with the provincial or national associations of celiacs and they have received training provided by the Association, to which all staff should attend: purchasing manager, chef, chefs, assistants , room managers and waiters
Note: The information we supply is indicative, we try to be as much as possible updated contrasting the data with ultimate responsibility. However, we recommend that before you go to ensure contacting the property directly,because maybe he could have made some changes in its service.