Bares, Tapas y Cafeterías sin gluten para celiacos en Badajoz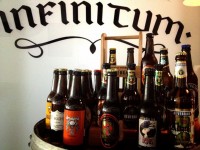 0 Comentarios
Alfonso Godinez 4 - 06011 - Badajoz (Badajoz)
Wide tapas menu and dishes of the Spanish cuisine. They have beer, desserts and even fryings with gluten-free flour. Basically everything is suitable for the coeliac people.


4 Comentarios
Centro Comercial El Faro/Centro Comercial Conquistadores/Avda. Sinforiano Madroñero, Nº 15 - 06006 - Badajoz (Badajoz)
Cafeteria-Ice-cream store-bakery store where coeliac people can taste: -Wide variety of breakfasts. -Snacks: sandwiches or pizzas. -Ice-creams/frozen milkshakes/slushes -Cake and bakery -Special cold and hot coffes


1 Comentarios
Pje. los Glacis - 00611 - Badajoz (Badajoz)
Cafetería cuya dueña es celiaca donde se hace repostería artesana sin gluten sin lactosa, también vegana y sin azúcar


1 Comentarios
Calle Sagasta, 2 - 06800 - Mérida (Badajoz)
Helados sin gluten, incluido barquillos.


0 Comentarios
Avda. de Elvas s/n - 06006 - Badajoz (Badajoz)
Cafetéría- Heladería en la que las personas celiacas pueden degustar: - Amplia variedad en desayunos. - Helados/ Baridos helados - Tarta

This distinctive identifies restaurants which have an agreement of colaboration with the provincial or national associations of celiacs and they have received training provided by the Association, to which all staff should attend: purchasing manager, chef, chefs, assistants , room managers and waiters
Note: The information we supply is indicative, we try to be as much as possible updated contrasting the data with ultimate responsibility. However, we recommend that before you go to ensure contacting the property directly,because maybe he could have made some changes in its service.