Bares, Tapas y Cafeterías sin gluten para celiacos en Tenerife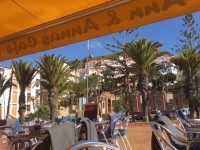 0 Comentarios
Avda La Habana, Num. 7, puerta 3c, Ed. Las Fuentes - 38650 - Los Cristianos (Arona) (Tenerife)
Small cosy café with bar snacks and pastries, all available glutenfree.


0 Comentarios
Calle Mequinez - 38400 - Puerto de La Cruz (Isla de Tenerife) (Tenerife)
Arepas, bocadillos y cerveza sin gluten.


0 Comentarios
Calle Cólogan, 10 - 38300 - La Orotava (Tenerife)
Tenen comida casera y típica canaria para celíacos, vegetarianos y veganos con precios asequibles y buena relación calidad precio. Personal muy amable y simpático. Lo recomendamos!!


0 Comentarios
Paseo Aquilino - 38650 - Arona (Tenerife) (Tenerife)
Buble waffle hecho al momento con diferentes combinaciones
Con helado,frutas y topping sin gluten.
922.381.619 - 669.444.506


0 Comentarios
C/ Esquivel,4 - 38400 - Puerto de La Cruz (Isla de Tenerife) (Tenerife)
Recetas vegetarianas en una coqueta casa con decoración romántica de aire colonial. Socio colaborador de ACET.


0 Comentarios
Álvarez de Abreu, 40 - 38700 - Santa Cruz de la Palma - Isla de La Palma (Tenerife)


0 Comentarios
Carr. General del Norte ,107 - 38380 - La Victoria de Acentejo (Tenerife)
HAMBURGESAS, BOCADILLOS Y SANWICHES CON O SIN GLUTEN

This distinctive identifies restaurants which have an agreement of colaboration with the provincial or national associations of celiacs and they have received training provided by the Association, to which all staff should attend: purchasing manager, chef, chefs, assistants , room managers and waiters
Note: The information we supply is indicative, we try to be as much as possible updated contrasting the data with ultimate responsibility. However, we recommend that before you go to ensure contacting the property directly,because maybe he could have made some changes in its service.